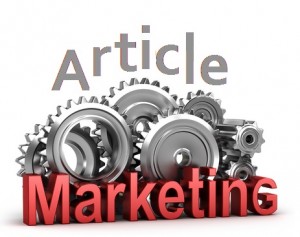 Article Marketing is the process of creating articles, uploading them to a website or blog, driving traffic to that website or blog with the intention to sell products, services, or opportunities. There are two benefits that you can get from article marketing:
If you create articles with valuable content that users are seeking and upload and then promote the article, you have a greater chance that readers will follow the links in your article, especially if you have a strong "call to action" near the link.
The links that you place in your articles can become back links (sometimes known as incoming links, inbound links, in-links or inward links) to your site. This will increase the value of your site in the eyes of the search engines. The most powerful and elusive part of Search Engine Optimization, SEO, is creating a network of back links to your site. Article marketing is a fundamental part of an effective link building strategy.
With article marketing there are basically three types of articles that can be written to drive traffic online:
Articles for blog or web site posts
Articles as press releases
Articles sent to article submission sites
When writing articles for blog posts using an article marketing strategy, you have far more of a leeway than in press releases and articles uploaded to submission sites. On your blog or your site no one other than yourself is going to approve or disapprove your articles. You're also not going to be limited to the number of links and anchor text that you place in the body of your article. Another plus: you can be as self-serving as you choose, but be careful with the amount of self-serving content you add as not to put off your audience.
In most cases, in order for an article to go live online, an Article for press release is required to be approved. They will also need to have a tone that is newsworthy. They certainly cannot be self-serving. If you write a review of your products, services or opportunities, you'll have to appear objective. Some press release submission sites automatically convert any links included in the press release to "no follow" links, eliminating the benefit of the incoming links to your site. Check your article after you have been approved to see if these conversions have been made. A "no follow" link is a link that does not count as a point in the page's favor, does not boost PageRank, and doesn't help a page's placement in the SERPs. People can still click on it and go where you send them but search engines won't consider them when they are ranking you.
Articles sent to article submission sites have to be approved, cannot be to self-serving, and generally links in the body of the article are not allowed. When first creating your account with an article submission site as part of your article marketing strategy you need to be more cautious with your first dozen or so articles submitted. The author bio box should only have one link. After you've had a number of articles approved you may become more aggressive with your linking strategy.  But at very least you should earn the benefit of a strong link to your site that will be followed and included in rankings by the search engine spiders.
By submitting to high Page Ranking article submission sites, you can use article marketing to tempt readers and drive traffic directly to your site. As with everything on the Internet, patience and consistency are the keys to success. If the primary objective of your article marketing is to create back links to your site you may achieve better results by setting up free accounts at multiple blog hosting sites and submitting your articles to multiple blogs, keeping in mind that you cannot submit duplicate content. But since no one is going to approve or disapprove your articles and you're not limited by the number of links contained in your articles, you can have more links that come in to your chosen site. This is a powerful strategy when building link wheels.