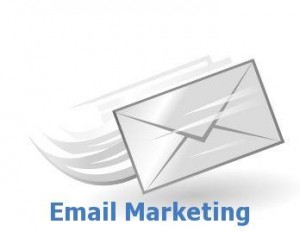 Email marketing occurs when a company sends a commercial message to a group of people by use of electronic email.  Most commonly through advertisements, requests for business, or sales or donation solicitation, any email communication is considered email marketing if it helps to build customer loyalty, trust in a product or company or brand recognition.  Email marketing is an efficient way to stay connected with your clients while also promoting your business.
Unfortunately, email marketing seems to have a bad reputation. Many companies think that if people see an email that isn't from someone they know, they will immediately consider it spam and delete it. While this may be true in some cases, you can make email marketing work for your company.
With email marketing, you can easily and quickly reach target markets without the need for large quantities of print space, television or radio time or high production costs.  Thanks to effective email marketing software, you can maintain an email list that has been partitioned based on several factors including the length of time addresses have been on the list, customers' likes and dislikes, spending habits and other important criteria.  Emails are then created and sent out to specifically target members of your email list, providing them with a personalized email detailing information that they are interested in or have requested.  This helps promote trust and loyalty to a company while also increasing sales.
There are several examples of email marketing campaigns, starting with a welcome email that thanks that new contact for "opting in" to your subscription.  Welcome letters can not only give valuable information about your company, they can also request key information about your new client, helping you put the person in the correct categories for future marketing efforts.  Additional email campaigns include sending out announcements on products or services, a newsletter regarding your company and/or products, coupons for future purchasing and much more.  Every email you send out should have company information on the bottom, giving potential clients a chance to learn more about your company as well as 'opt-in' to get future emails.  Incentive programs that give members a 'promo code' to collect discounts on purchases also allow you to monitor the effectiveness of your campaign as well as what your contacts are interested in.
With the help of email marketing software, email marketing is an effective way to not only reach your target markets but also to stay connected with your purchasing base.  Through efficient use of email marketing, you can retain current clients while also targeting new markets.  You can easily monitor how effective a marketing campaign is, and see that your return on investment is substantially higher than with other, more traditional, marketing campaigns.
Five Highlights for Email Marketing
When considering email marketing versus direct marketing, email marketing has amazing benefits of being cost effective.  A direct marketing campaign can run you thousands of dollars for one printed newsletter, whereas email marketing costs a fraction of that amount.  Email marketing is also targeted, which means you can contact only the customers you know are interested in what you have to say, and build brand loyalty by providing useful, relevant information in every e-mail you send out.
With email marketing, you are able to track all sorts of data that can help you run your business more effectively and see how your email marketing campaigns are doing. For example: you can see at a glance how many people open your email, how many people click on links you are placing in that email, as well as the number of conversion (sales) that are a result of your email marketing campaign. You'll also be able to track which customers have forwarded your emails, unsubscribed to them or marked them as spam, so you can see how your emails are being received and whether you need to change them in order to avoid their spam filter. This data will help you figure out which types of content work best for your customers.
Unlike direct marketing, email marketing can be automated, making it easier for your company to schedule emails months or weeks in advance.  This can be an incredibly useful feature, especially if you offer seasonal sales or promotions or other events that are already planned for the year.
While other marketing tactics require you to wait for results, email marketing is immediate. Your emails are sent instantly to the subscriber, and you don't have to wait days or weeks for a direct marketing campaign to reach them, or wait for your potential customer to find your website through banner ads or blog posts.  If you take the time to include relevant, well-written content in your email newsletter, you are helping build a relationship with your subscribers that increasing the chances that they will turn into future customers or that your current customers will remain loyal to your company.
One of the most important reasons your company should be using email marketing is because it can boost sales.  You don't want every email you send out to be a spammy sales letter, but you can use email marketing to your advantage without sounding like a generic sales pitch.   Some simple ways to boost sales:
You can email subscribers when you have special promotions or discounts occurring
you can send customers special coupon codes to entice them to try your company's products or services
you can offer loyal customers a special gift just for them.
No matter how you do it, email marketing can effectively boost your sales in a measurable and time-tested way.  Despite its un-deserved status as spam, email marketing is a highly effective way to not only engage current customers, but help gain new ones as well. Any company who wants a cost-effective, proven method to help build customer relationships and boost sales should be using email marketing on a regular basis.