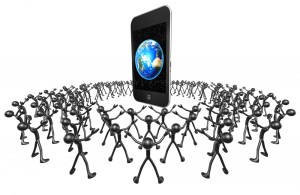 Mobile marketing is comprised of ads that appear on mobile smartphones, tablets, or other mobile devices.  Mobile marketing ad formats, customization, and styles can vary, as many social media platforms, websites, and mobile apps offer their own unique and tailored mobile ad options.
Your business needs a mobile marketing strategy for the same reason that you need a computer and wi-fi access.  A walk around any major city will find more than just a few people with faces glued to their smartphone screens.  According to recent reports, 40% of users' internet time is spent on mobile devices, which means simply ignoring the rise of mobile just isn't an option anymore.
Word-of-mouth advertising has long been recognized as the primary factor behind 20% to 50% of all purchasing decisions; in today's mobile friendly, digital world, consumer testimonials and online reviews have become the default way within search results for consumers to judge the viability of a business to meet their needs.  (Note 2)
Some mobile marketing statistics :
Global smartphone use will reach 2 billion by 2015 (Bloomberg – October 2012)
Nearly half of American smartphone owners used shopping apps in June 2012 (Note 1)
63% of people who do mobile searches, usually buy within 1 hour (Note 1)
12 billion estimated annual searches on mobile devices today; 90 billion estimated annual searches on mobile devices by 2016 (Note 1)
57% of consumers will avoid a business that has negative reviews online (Note 1)
90% of people use online reviews to make buying decisions, however only 6% of people write reviews (Note 1)
45 percent of users between 18 and 29 use mobile search daily (Note 3)
In 2013, mobile Internet has surpassed desktop use.  (Note 4)
Mobile website traffic across all industries is growing 3.5% per month.   (Note 4)
As of 2012, the majority of American mobile subscribers now have a smartphone.  (Note 4)
80% of Americans never leave home without their mobile device.   (Note 4)
85% of Americans are never more than three feet from their cell phones.  (Note 4)
94% of smartphone owners look for local information on their phone.  (Note 4)
70% of the people searching for a product or service on mobile will buy in the near future.  (Note 4)
70% of local information seekers have connected with the business.  (Note 4)
Less than 5% of online businesses have a website that is compatible with mobile.   (Note 4)
Visitors to professional services websites NOT optimized for mobile are 24% more likely to bounce when viewed via mobile device vs. desktop.  (Note 4)
35% of smartphone owners expect to use their phone to access the Internet more in the future.  (Note 4)
Of the estimated 30 billion annual mobile searches, about 12 billion are local searches (Note 5)
Tablet users access search 73.9 percent of the time, more than any other activity (Note 6)
Local mobile searches (85.9 billion) are projected to exceed desktop searches (84 billion) for the first time in 2015 (Note 6)
80% of mobile device time is spent on apps, with game apps eating up the largest percent of app time (Note 7)
People browse 70% more web pages on tablets than smartphones (Note 7)
Retail conversion rates are 2.2% on tablets, considerably higher than 0.7% on smartphones, but traditional PC conversion rates are still highest at 3.3% (Note 7)
Mobile usage is predicted to surpass desktop sometime in 2014 (Note 8)
Yesterday was the time for you to start mobile marketing.  By the end of 2013, your marketing will look antiquated if you haven't adopted marketing that is compatible with smartphone and tablet users.  Consider a responsive web design, monitor how people access your site to assess whether building an application is a good idea then build more visual and shorter content.  Smartphone Internet access won't be declining anytime soon.  Make sure your online presence embraces the convenience of mobile.
Note:
(http://www.localviewpoints.com – March 2013)
(http://www.marketingpilgrim.com – May 2013)
(www.IcebreakerConsulting,com – May 2013)
(http://www.televox.com – April 2013)
(www.SearchEngineLand.com – April 2012)
(http://www.emarketer.com – December 2012)
(http://www.marketingwiz.co – June 2013)
(http://www.businessinsider.com – June 2012)